Fresh Out of the Cow
Jul 26, 2006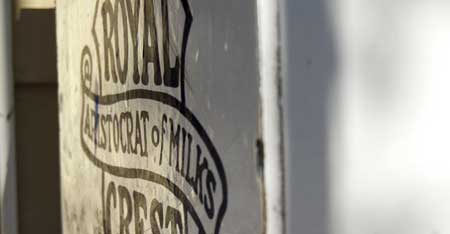 Since we found out about being pregnant it's changed our food habits a bit. One thing we changed was drinking more milk. I grew up on the stuff, to the point that my parents had to start reeling us kids in, practically rationing it out. But over the past ten years or so, I wasn't buying it as often and it wasn't as big of a priority.
So when we started drinking more milk I did a bit of research and set up milk delivery. Now, once a week a guy in a blue truck comes by at four in the morning to drop off two half gallons of milk. We can get other stuff too, like eggs, cheese and butter.
This milk is amazing. It tastes far more creamy than the stuff you get at the store. They guarantee that the milk is completely organic and has been out of the cow for 72 hours or less by the time it hits your doorstep. Now I drink milk often. I feel like Archie Goodwin in a Nero Wolfe book.
I've got to say, I'm impressed. I'm so glad that it is still possible to get milk delivered to your door. It feels so un-modern for we americans. Ironically, Amazon is testing out a grocery, so maybe we're just coming back to our roots. I know I am. It was my job as a kid to go out to the milk box and grab the morning milk.