Font Aid VI: Aster Effects
Apr 24, 2013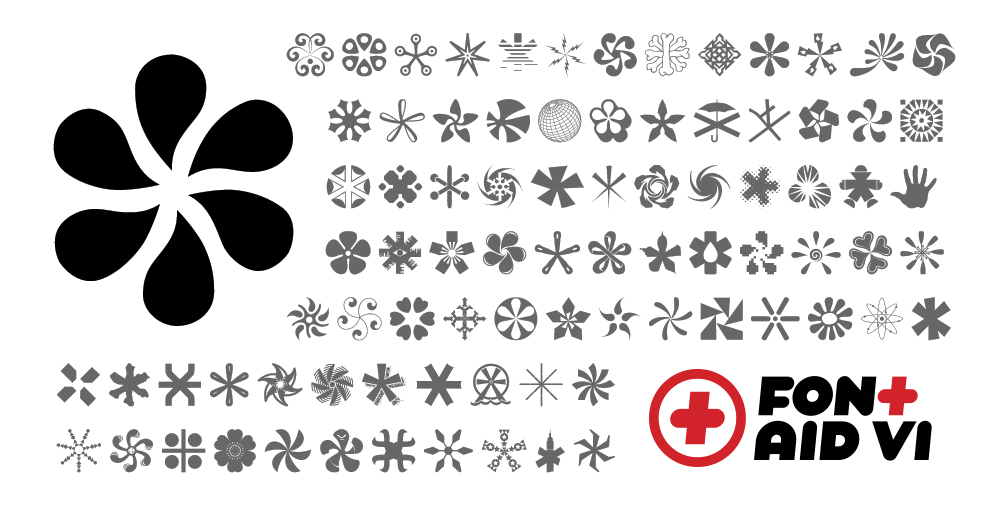 From time to time, the Society of Typographic Aficionados organizes a project to support relief efforts after natural disasters. Font Aid VI: Aster Affects is our latest project, raising funds for Red Cross relief efforts after the terrible events of Hurricane Sandy in October 2012.
This project brought together hundreds of designers and typographers across the globe to collaborate on a single font consisting entirely of asterisks and star-like symbols. I was honored, proud, and happy to contribute a glyph of my own to this project.
From the Font Aid VI page:
An asterisk can denote something that requires attention — and an event of this magnitude and impact certainly deserves some attention. … The root of the word comes from the Greek astēr or "star" — signifying hope and light. In computer terms, it's a wildcard character … and hurricanes are certainly wild and unpredictable.
This was my first time participating in Font Aid, and I can't see why I won't take the opportunity to contribute again in the future.
Please, if you have the means, buy the font and know that all the proceeds of your purchase go straight to those in need.